Customize my Photos with Your Scripture Verse
I will add any scripture to my photos, at no charge... just send me an email. This is how I make my living so don't hesitate to ask any questions.  Go to the contact page to request.
Customize these as a gift for your pastor or bible study teacher.  These would also looked framed in your church offices or Sunday School rooms.
Scripture Stickers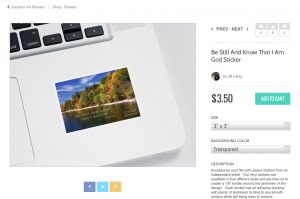 NEW!!
Accessorize your life with unique stickers from any of my photos!   The vinyl stickers are available in four different sizes and are kiss-cut to create a 1/8" border around the perimeter of the design.   Each sticker has an adhesive backing with plenty of stickiness to cling to any smooth surface while still being easy to remove.
Sizes are 2x2, 3x3, 4x4 and 6x6 starting at $2.90.  The background can be white or transparent.
Scripture Wall Art, Bible Verses Framed Art and Canvas Wraps
Purchase bible scripture framed art, gallery canvas wraps and many choices of wall art through Fine Art America
Consider gifts for your friends and family or hang artwork in your church or synagogue: prints, ready-to-hang framed art, canvas gallery wraps, coffee mugs, tote bags, puzzles and more.
Download the images and use for your graphic design projects, bulletins, Powerpoint presentations.
Purchase Wall Art, Face Masks, Beach Towels, Bath and Hand Towels, Bath Sheets, Weekender Tote Bags, Throw Pillows, Phone Cases, Duvet Covers, Fleece Blankets, Shower Curtains, Jigsaw Puzzles, Zip Pouches, Yoga Mats, Note Cards, Spiral Notebooks, Stickers, T-Shirts, Sweatshirts, Baby Onesies